We announce the July reading list for the AOStin Lore Club
Age of Sigmar is more than just painting miniatures, playing games, and building terrain. There's an entire world behind the game we love. If you don't know what the AOStin Lore Club is, check out this page first then come back here!
July 2020 Reading List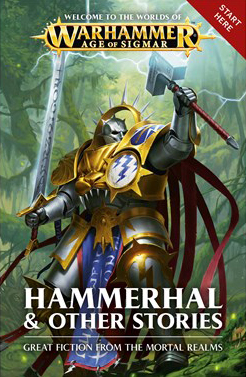 For the first month, we're going to ease in by starting with Hammerhal & Other Stories. This is Black Library's recommended starting point for Age of Sigmar fiction, it is presented in an anthology format (a collection of short stories), and it's available in paperback, eBook, or Audiobook format. It's also a cheap buy in at $7.99 for the eBook and $13.99 for the Audiobook.
You can read excerpts from Hammerhal & Other Stories, listen to a clip of the Audiobook, and purchase it directly from Black Library here.
Weekly Supplementary Reading
The following material is free to download/read online, and is optional if you want to explore more of the Mortal Realms. It's also good for those that don't have enough time to read a whole book, but still want to take part in the club.
Week 1: Grand Alliance: Destruction
A handy guide to all things destruction. Feel free to explore the individual factions.
Week 2: Head to Head
A fun tale of an Orruk Big Boss desperate for a good fight.
Week 3: A Dying Goddess
What's wrong with Squashakandra, the spider goddess?
Week 4: To End the Everwinter
Frostlord Bjorgulf battles the Everwinter.

---
What's the AOStin Lore Club? Glad you asked. It's a reading group where each month we post a new book, read it, and discuss it on our Discord server. For more information, check out the AOStin Loreclub page.